14 June, 2020 – IAM Canada conducted five video conference Local Lodge President Meetings from June 1 – 10, 2020. The meetings were regionally attended: the Atlantic, Western, Manitoba and Ontario, the Greater Toronto Area and Quebec regions were all represented.
The meetings were conducted via Bluejeans, a videoconferencing platform, with in excess of 20 participants on each call. Organized by the Canadian office in order to outreach our communications, General Vice-President Stan Pickthall felt it was critical to remain in touch in these times when communications had a greater chance of breaking down. "The IAM takes special pride in our communications department, and our ability to reach members with pertinent and timely information," said Pickthall.
Every Local Lodge across Canada was invited to participate, along with Business Representatives, General Chairpersons, Directing Business Representatives and Grand Lodge Representatives. With few exceptions, we heard from all of the Lodge Presidents.
GVP Pickthall and Chief-of-Staff Gord Falconer both made remarks to open the sessions. All Lodge presidents were invited to give a report on activities within their region and their Local Lodge.
"Normally Stan and I would be making site visits during the Spring and Summer months, and we have visited hundreds of worksites over the past several years, said Falconer. "In the age of COVID-19, this year there has not been an opportunity, so we wanted to meet with our Lodges by video."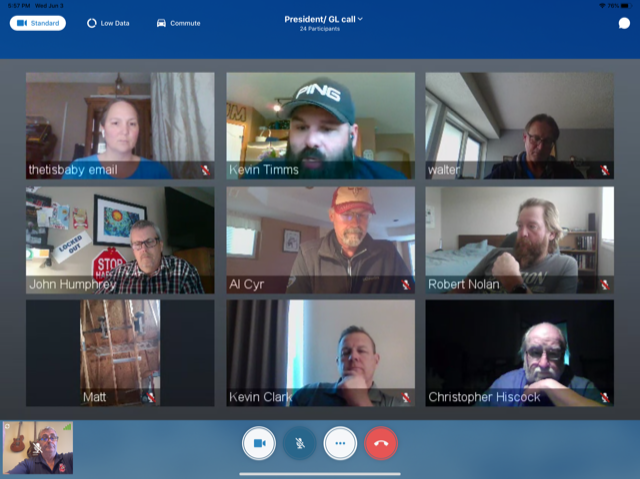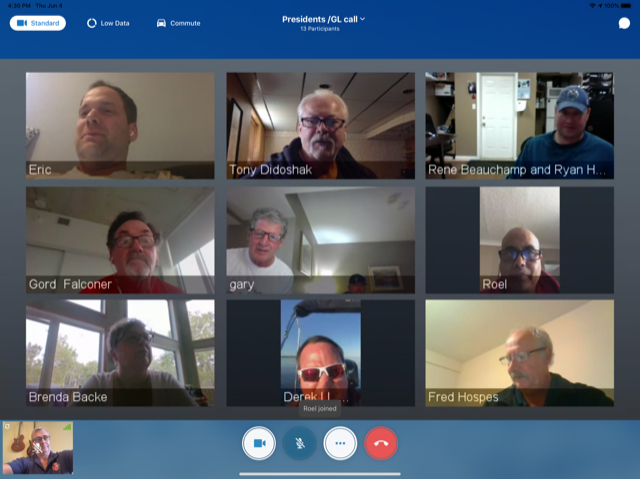 The Canadian office reported on Canada-wide activities – with particular attention to the post-pandemic actions we have undertaken. Topics included the cancellation of the 2020 Grand Lodge Convention, layoffs of members during this crisis – presently in excess of 20% of IAM members are laid off, with more on Government relief programs. Presidents were also updated on the IAM campaign demanding employer participation in the Canada Emergency Wage Subsidy (CEWS) and our opposition to a government application made by WestJet asking for relief from Labour Code obligations related to employee terminations.
"The IAM Canada website www.iamaw.ca has in excess of 80 news and information postings to help our members navigate this crisis. This has been the most challenging period in modern history, and our staff and officers have been here every day to work through this process," Pickthall explained.
"These meetings were hugely successful! We had an opportunity to discuss our many ongoing campaigns, and to build solidarity with our Lodges across Canada. We will definitely be doing this again, as it gives us all the connections we need during this very stressful time for our members. This proves to me once again: IAM Locals are Rock Solid!," Pickthall concluded.
Resources on the topics discussed, and many more can be found on our website www.iamaw.ca.
– 30 –
Information:
Frank Saptel (fsaptel@iamaw.org)