Paris, France – "How do we build union power in the Global Aerospace Industry?" asked IAM International President Bob Martinez, speaking to delegates attending the IndustriALL aerospace conference this week in Paris.
He told delegates, including IAM members from Canada and the US that the global aerospace industry is at a crossroads and it must choose between two paths. "The first is a path that views unions as the enemy," said Martinez. "It is a path that attempts to prevent workers from joining a union, a right recognized by national laws, the United Nations and the ILO. It is a path that blames workers for management failures from the very top." Martinez said the second path is one that accepts unions as a partner and truly understands the value of a unionized workforce to its company. "The IAM and many of the unions who are affiliates of IndustriALL have solid relationships with aerospace companies that have chosen to take the high-road," he explained. "These companies embrace the rights of workers to form a union and negotiate industry leading contracts. They recognize that a proud union workforce is the engine that drives their success."
But Martinez, who chaired the conference, warned delegates not all aerospace companies are enlightened about the benefits of a unionized workforce. "We must improve upon and build stronger global framework agreements that will enhance the ability of Unions to organize," he said.
This sentiment was echoed by IAM Canadian GVP Stan Pickthall: "One of the biggest challenges facing Unions in this industry is the ability of corporations to move work to low wage countries in order to increase profits at the expense of workers globally." On behalf of the IAM in Canada, David Chartrand – IAM Quebec Coordinator – gave delegates a comprehensive report on Bombardier Aerospace while Gerald Tremblay – IAM Canadian Aerospace Coordinator – reported on activities at Rolls Royce Canada and Siemens Canada Aerospace division.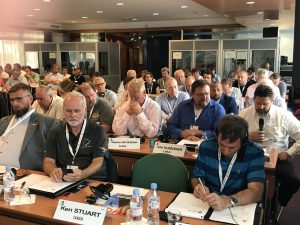 Using the backdrop of the Paris Airshow, the IndustriALL conference provided an opportunity for many global unions to share strategies and work toward international solidarity. "We need to take international solidarity to a New Level," said Martinez. "And taking solidarity to a new level starts today with this IndustriALL Aerospace Workers Conference. I started my comments with one simple question – How do we build union power in the Global Aerospace Industry? – The answer is simple, we do what workers all over the world do every day, we form a union!"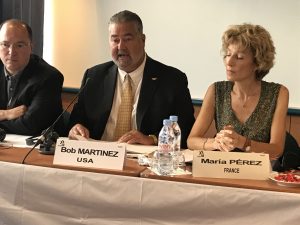 Photo one: IAM International President Bob Martinez chairs the 2017 IndustriALL Aerospace Workers Conference in Paris
Photo two: IAM Quebec Coordinator David Chartrand delivers his report on Bombardier Aerospace to the IndustriALL conference in Paris, on his right is IAM Canadian GVP Stan Pickthall and on his left is IAM Aerospace Coordinator Gerald Tremblay.