For immediate release
15 November, 2019
Edmonton, AB – Members of IAM Local Lodge 1722 has ratified a new collective agreement with Diamond International Trucks Ltd. this week.
Facing economic instability in Alberta, and a contentious set of bargaining, the committee was able to get a deal by sticking together and implementing and following the plans devised at the IAM's William W. Winpisinger Center prior to bargaining.
Members working at the company are mechanics, parts and warehouse people working on trucks for the city of Edmonton, the military and the Royal Canadian Mounted Police (RCMP).
The approximately 30 members, located in Edmonton, work for an "international" brand truck dealer.
"The employer sought reductions to paid days off, and a short-term contract of one year with wage freezes. The bargaining unit was able to keep the paid days off, as well as some monetary increases over a three-year deal," said Barnable, Business Representative/Organiser for IAM District 14.
"After bargaining over the last 8 months, we finally reached a deal we felt we could recommend to our members. The committee did a great job in working together and staying solid during a trying set of bargaining. Our members are pleased to have ratified the new contract and now have the stability of a three-year deal," said Barnable.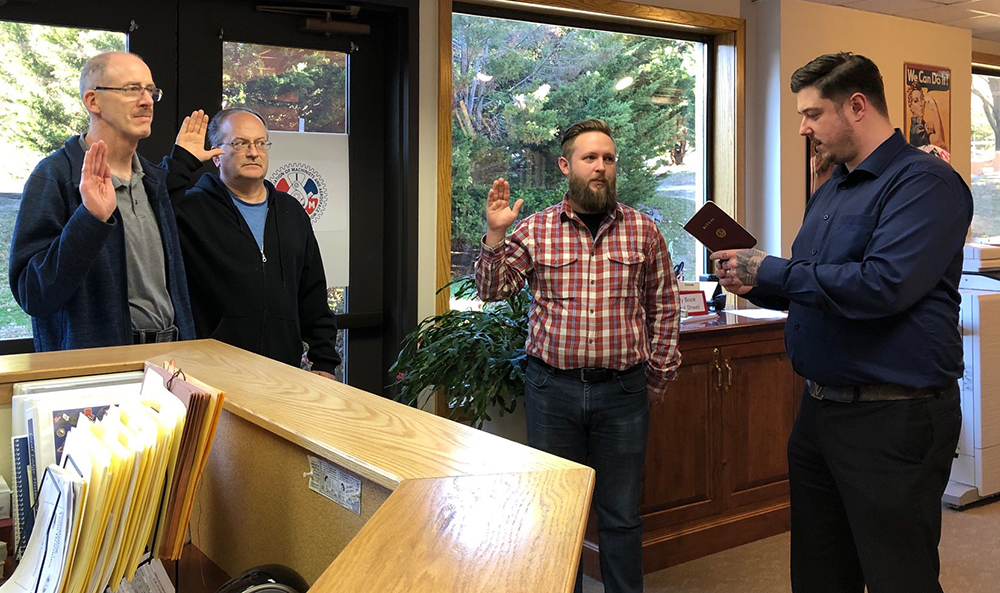 CAPTION: Negotiating committee Members being sworn in by Matthew Barnable
From left: Matthew Barnable, Kyle Franzen, Gerry Sheridan, Roger Frost (not in picture), Ed Zubick.
The members consist of clerks, parts and warehouse personnel and heavy-duty technicians.
Diamond International Trucks, sells, rents and services new and used International brand trucks ranging from small service and delivery units to class eight highway and off-road trucks servicing all facets of the trucking industry throughout Alberta and Western Canada.
– 30 –
For more information:
Matthew Barnable
Business Representative/Organizer
IAMAW District Lodge 14
Office: 780-414-1985
mbarnable@iamdl14.org